Help & Frequently Asked Questions
Money Stuff
Shipping Stuff
Other Stuff
Product FAQs
RETURN POLICY
---
If you are reading this before you order, good for you! It means you aren't sure what to order. Call 866.724.7787 or email and let us know your needs and questions. We live rags!! We'll make sure you get the right products so you don't have to worry about returning anything. We've been doing this for a long, long time and we know what will work best for your business. Call 866.724.7787 or email now! Don't guess.
If you are reading this after you ordered, hey, still call 866.724.7787 or email and talk to us. Let us know why it didn't work. You may have ordered the wrong rag for your application and we probably have the right thing. We'll help.
Nitty Gritty Details
We have very few items that cannot be returned:

Cheesecloth: Because it is used in the food industry, cheesecloth cannot be returned. We want to make sure all the cheesecloth we sell is fit to make the finest cheese.
Cleanroom and Critical Cleaning Cloths: Once a package is opened, it cannot be returned.

You have 30 days from your order date to contact us about a return. Sorry, we won't accept returns beyond that date.
We do not refund used or laundered products. ONLY USE/LAUNDER 1 OR 2 ITEMS IF YOU AREN'T SURE (better yet, contact us before you order).
Returned rags/boxes must be in original, like-new condition.
You need to arrange and pay for return shipping using the carrier of your choice. We recommend insurance and tracking.
Not so hard really. 30 days, don't send us back used stuff, you pay the return shipping. Do all that and we'll refund you 100% for the items returned.
Next step is to contact us.
MONEY STUFF
---
Business Terms and Purchase Orders
For our business customers, we offer Net 30 terms upon prior credit approval. Please complete our terms application (Government agencies, schools & state government - no application needed, just contact us). There is a $600.00 minimum per order/invoice to receive terms (no minimums for our non-terms customers). Zero tolerance for being late. If you are late we will make your account COD only.
Online Payment Methods

Sales tax
If you ship within the state of Maryland, 6% sales tax will be applied.
Love our prices but stuck in a sucky contract?
We hear this every now and then from customers. Many are able to cancel the rag portion of their contract and keep the uniforms. Another idea is to learn the minimum requirement of your contract and reduce your replenishment to that number. Buy the rest of your bulk rags from us and save! If you are getting red rags from them, get blue rags from us. Take advantage of the savings until your contract expires.
Some use their lawyer to get out of a sucky contract, just so they could shop at RagLady.com. They were surprised by how easy it was (this is what lawyers are good at). Document a few issues and bam, goodbye contract. They'll easily recoup their legal costs in reduced rag costs, better rag quality, and improved employee satisfaction. Sometimes you just have to be creative!! We'll be here when you are ready.
Wholesale/Reseller/Distributor Information
Of course we've thought about you. Check out our Pallets for exceptional pricing. We do not do blind shipping. Our name is on all our packaging and shipping/packing labels. If you ship to a third party, your name will be on the packing information. Bottom line, if you want to ship to someone anonymously, you'll have to ship it to your location and remove whatever you don't want them to see.
SHIPPING STUFF
---
Free Shipping, No Kidding!
It's crazy but yes, we ship your order for free. Shipping doesn't cost you a dime (of course you can't ship anything anywhere for a dime but if you could, we wouldn't charge you for that dime.) Oh wait, we do have some fine print that we'll show you in regular size print. Fine Print in Regular Sized Print: We don't ship to Alaska or Hawaii for free. You guys already live in paradise. We also don't ship internationally for free. It's too far away. So there you have it, Free Shipping.
Orders Ship Fast
Most rags are typically in stock and ready to ship. We must receive orders no later than 2:00pm EST (M-F) to ship the same day (same-day shipping isn't guaranteed). Local deliveries will ship within 1-2 days of placed order.
When will I get my order?
Between pandemics and increased online ordering, shipping carriers are slower than usual. Be patient, it'll get there. I can't wait for the day we can beam your package right to your doorstep!
Find your shipping location on the map. Then look at the little colored boxes on the right of the map. Those represent the number of business days (weekends are not considered business days) it will take for you to receive your order. We can't guarantee this timeframe but it is normally correct (if there is anything such as normal around here). We ship from Stevensville Maryland.
Call if you want expedited services at 866-724-7787. FYI - Expedited services generally cost an arm and a leg (that's your arm and leg).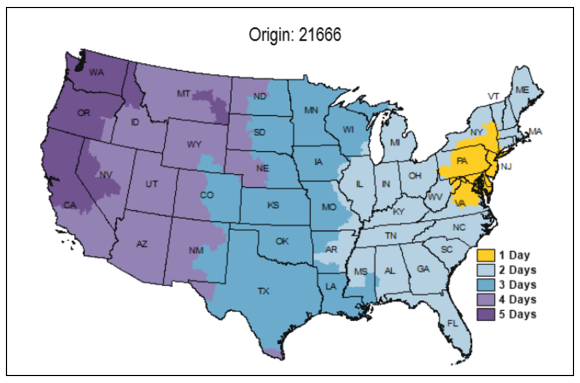 How We Ship
The shipping method will depend on the location and weight of your order. We ship via FedEx, UPS, the US Postal Service and use local delivery trucks. Free Shipping within the continental/contiguous USA.
Order Pickups
Yes. You can pick up your orders Monday - Friday 8:30am - 5:00pm. Directions to our warehouse.
Shipping to Hawaii, Alaska, and other non-contiguous* USA States
Yes. We ship to these locations via USPS Priority ONLY. Packages are usually delivered in 3-7 business days.

Additional shipping charges DO apply to your shipping area. Since shipping charges are based on weight and your zip code, the best way to find out additional shipping charges would be to place your order online. Your order AUTOMATICALLY gets placed on hold. We will then email you within 24 hours with the additional shipping charges that apply to your order. We will not ship without your approval.
*Non-contiguous states are Alaska and Hawaii and all off-shore US territories and possessions, which include American Samoa, Guam, the Northern Mariana Islands, Puerto Rico, and the United States Virgin Islands.
Shipping to PO boxes or Military APO/FPO addresses
Yes. Additional shipping charges MAY apply. Since shipping charges are based on weight and your zip code, the best way to determine the additional shipping charges would be to place your order online. Your order AUTOMATICALLY gets placed on hold. We will then email you within 24 hours with the additional shipping charges that apply to your order. We will need your approval to either ship or cancel your order at NO obligation to you. Orders shipped via USPS Priority usually are delivered in 3-7 business days.
Shipping to Canada?
Yes, we ship to Canada but (there it is) to commercial/business addresses only. No residential addresses.
Our Canada price includes ground shipping via FedEx, broker fees, duty, and GST fees if they apply. We pay all fees upfront so you don't have to worry about it. Super easy and no surprises when delivered.
If you want to order, contact us with the items you want (the item numbers are on the product's website page), your billing/shipping address, and phone. We'll take care of the rest.
Shipping Internationally?
Yes to commercial/business addresses ONLY. (NO residential addresses.) We ship via USPS Priority Mail International ONLY. Packages are usually delivered in 6-10 business days. Contact us with the exact items you want to order (item numbers are on the product's page), your billing/shipping address, and ask for a quote.

* ALERT * International Shipments - Keep this in mind when requesting International Shipping, you are solely accepting the entire risk of delayed shipments, misrouting, and lost packages. We ARE NOT responsible for your package once it leaves the United States. We ship via USPS Priority Mail International. Once your package leaves the United States our hands are tied and so are yours. We are all at the mercy of the Postal Service of each country your package travels through. RagLady WILL NOT be held responsible for lost, damaged, or misrouted packages.
OTHER STUFF
---
Decorating Services
Sorry, we only sell blank towels. We will drop ship towels directly to your preferred decorator.
Do you want my extra clothing or scraps?
Bottom line, No. We get our rags and towels from trusted sources we have used for a long time. In this way, we provide our customers with consistent quality. Search for "clothing graders sorters" to find someone in your area that might be interested in your items.
Holy Crap, can that price be real?
Despite our best efforts, occasionally items in our catalog may be mispriced. If the correct price of an item sold by us is significantly higher than our stated price, we will, at our discretion, either contact you for instructions before shipping or cancel your order and notify you of such cancellation.